This project has been in the pipeline for several years now, and is the first iteration of a new generation of ultra-compact travelling vehicles (that is - campers and motorhomes). The aim, as always, is lightweight, aerodynamic, and as sustainable as possible in components and materials. 
We are particularly excited about this project, and hope and expect it to demonstrate real gains in self-sufficiency and economy.
The complete specification is at the bottom of this page.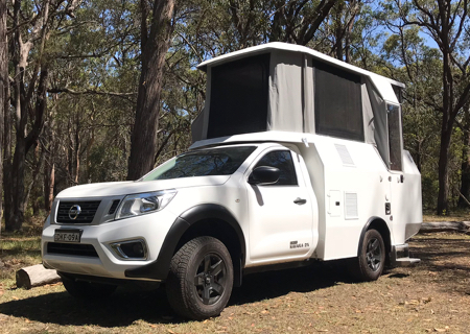 ROOF UP, READY TO CAMP.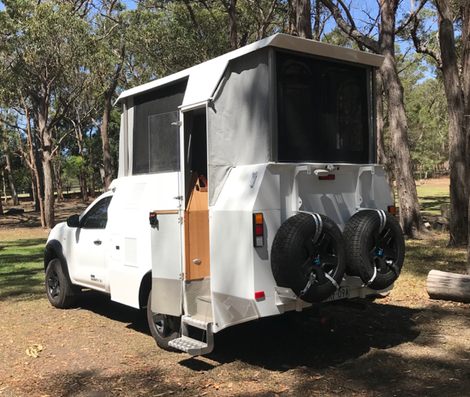 STEPS FOLD OUT, ACCESS IS EASY AND SAFE.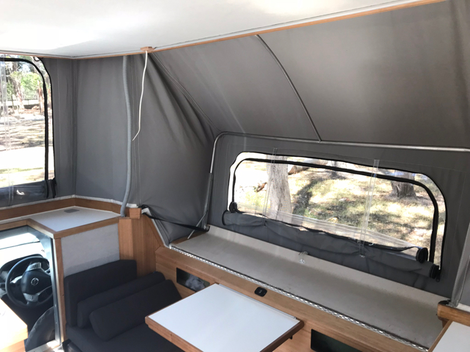 NICKNAMED THE 'WEST WING', THIS POP-OUT ADDS MASSIVE INTERNAL SPACE AND AIR MOVEMENT - SO IMPORTANT IN HOT CLIMATES.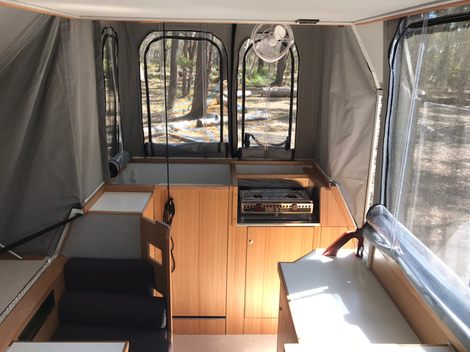 THE TOILET AND SHOWER* ENCLOSURE AT THE REAR CORNER (LEFT OF PHOTO) SHOWN WITH ITS PRIVACY SCREEN FOLDED AWAY (*WHAT DISTIGUISHES A MOTORHOME FROM A CAMPERVAN). ALCOHOL STOVE IS ON THE RIGHT, WHICH WAS SPECIFIED TO ELIMINATE GAS - MORE ON THAT LATER!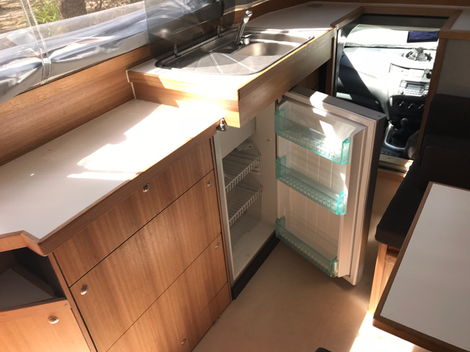 GALLEY WITH 110 LITE UPRIGHT FRIDGE, SINK WITH HOT AND COLD PRESSURISED WATER, DRAWERS ETC FOR PANTRY STORAGE.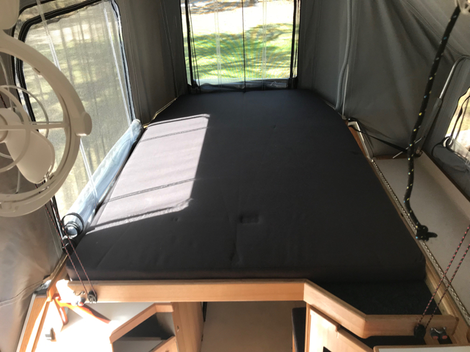 DOUBLE BED DROPS DOWN FROM THE ROOF. IT HAS A SPECIAL SYSTEM TO ELIMINATE MOULD FROM FORMING UNDERNEATH: MESH BOTTOM COVER, PROCTOR* 'HAIRY CHEST' LAYER BETWEEN MATTRESS AND BASE, WITH HOLES THROUGH BASE TO ALLOW AIR TO BE PUMPED IN AND OUT OF THE HAIRY CHEST LAYER EVERY TIME BODIES MOVE ON TOP OF THE MATTRESS. 
THIS IS DERIVED FROM THE LATEST ANTI-CONDENSATION TECHNOLOGY IN SUSTAINABLE BUILDINGS DESIGNED BY OUR PARENT COMPANY ENVIROTECTURE.
*PROCTOR GROUP LTD MANUFACTURE A RANGE OF HIGH PERFORMANCE INSULATION AND WRAP MATERIALS THAT WORK IN RESPONSE TO ACTUAL BUILDING PHYSICS.
Nissan Navara NP300 DX diesel 4×4 cab chassisMotorhome body
'Insideoutback' pop-top, foam sandwich construction shell

Canvas Sunbrella cotton-poly composite fabric, windows mesh/clear/canvas

Top door loose, polycarbonate clear in aluminium frame

Roof lifter 12v linear actuator by Tomuu

12v electrical system:

Redarc Manager 30 BMS

Sino-Poly LiFePO4 lithium iron 300AH battery system with its own cell balancing BMS from Solar4RVs

No 230v electrical built in, Redarc 12v 700w inverter (one 230v outlet)

Solar power 5 x 135w RAD-Power lightweight PV panels on roof from Solar4RVs

135 litres fresh water in 3 x 316SS tanks by Hannan Stainless with individual gauges

12v pressure pump Flojet Triplex

90 litres grey water storage in 1 x 316SS tank Hannan Stainless

Thetford cassette toilet, electric flushing

12v compressor fridge Evakool DC110 upright

No gas or 230v on board

Stove Dometic alcohol fuel no-pressure stove

Hot water 12v Duetto Mk2

Sink & tap Dometic SS with toughened glass lid

Joinery solid Porta's Tas Oak and Has Oak veneer on hoop pine ply by Bruynzeel Plywood

Flooring Comcork Walkeasy & Aquadeck from Safety Flooring

Lining Autex Vertiface from Solartex

Upholstery hemp-cotton blend from Hemp Gallery
This may not be the first motorhome we've ever done, but was by far the most challenging. Many people and companies were involved, and we hope that the lessons learned and goals achieved here can be freely shared with anyone else wanting to do it again.
BUILDING PROCESS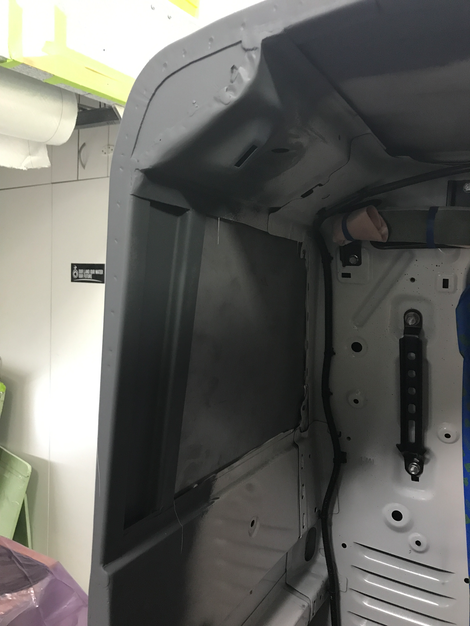 CAB STEP-THROUGH REINFORCEMENT IN PROGRESS.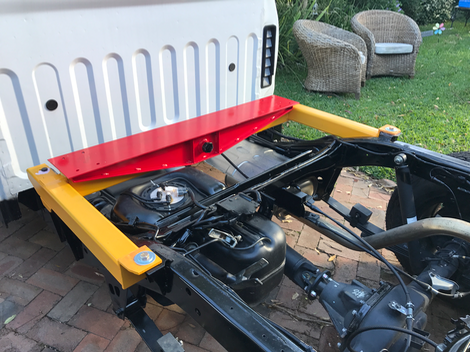 PIVOT-BEAM ALLOWS CHASSIS AND MOTORHOME BODY SHELL TO TWIST INDEPENDENTLY.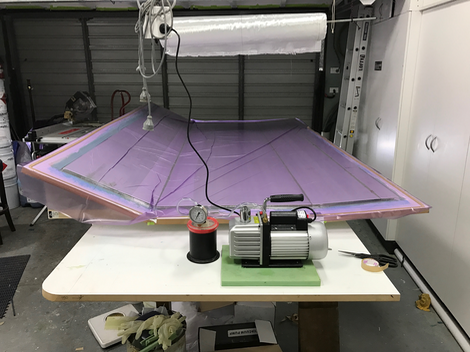 SIDE PANEL LAY-UP, TYPICAL OF ALL PANELS: DEAD FLAT TABLE, 2 OR 3 LAYERS OF 450gsm DOUBLE BIAS FIBREGLESS CLOTH, VINYL ESTER RESIN, ALL VACUUM BAGGED TO ZERO ATMOSPHERE PRESSURE.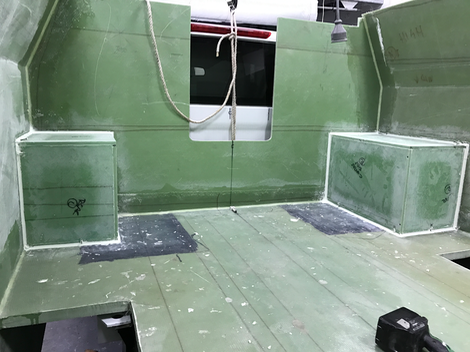 ASSEMBLY UNDER WAY.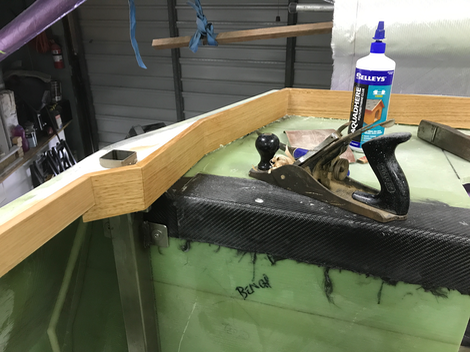 ONE OF OUR FAVOURITE PHOTOS - JUXTAPOSITION OF OLD AND NEW TECHNOLOGIES.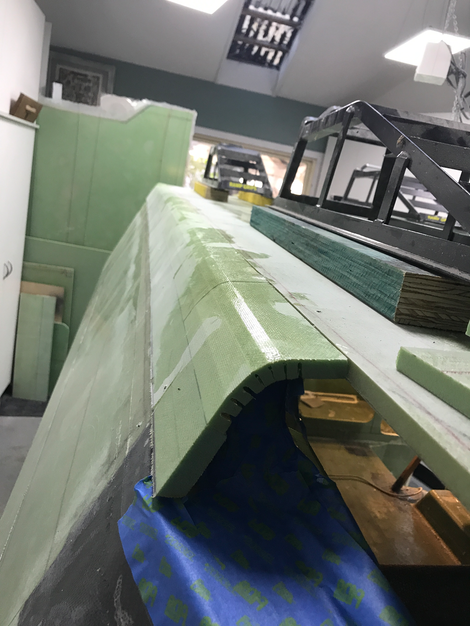 ROOF ASSEMBLY UNDER WAY.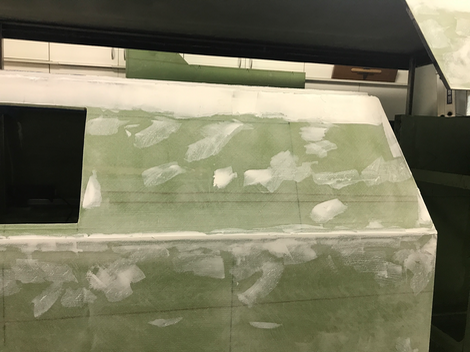 FAIRING THE OUTSIDE SKIN.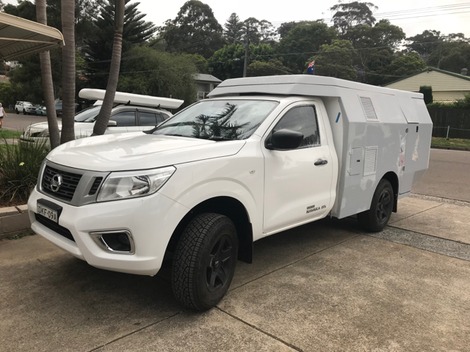 UNDERCOATED.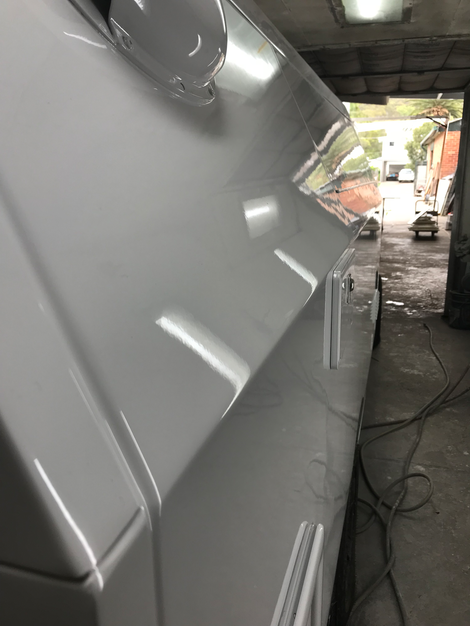 COMING OUT OF THE SPRAY BOOTH.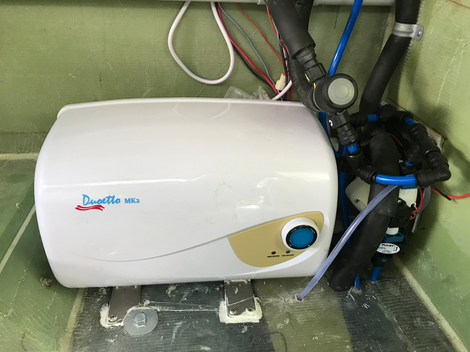 12v HOT WATER HEATER - AUSSIE DESIGN DUETTO MK 2, AND WATER PRESSURE PUMP.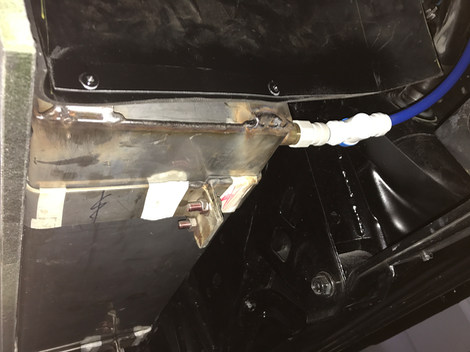 STAINLESS STEEL FRESH WATER TANK - ONE OF THREE, 135 LITRES IN TOTAL, PLUS 90 LITRES OF GREY WATER, ENABLING THE 'LEAVE NO TRACE' SELF-CONTAINMENT CERTIFICATION.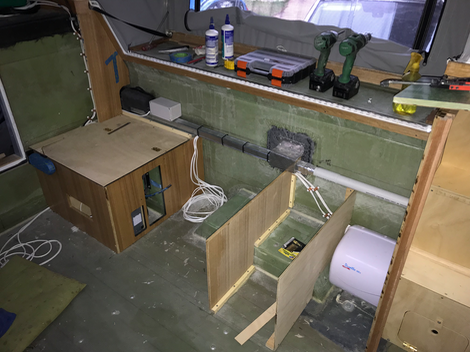 INTERIOR FIT-OUT UNDER WAY.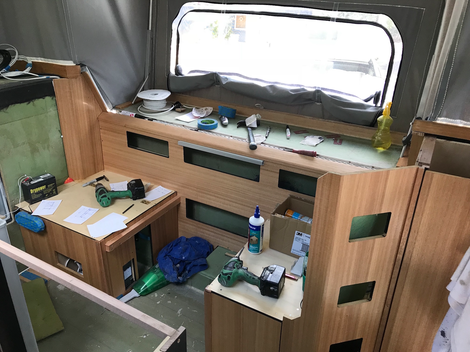 AND A BIT FURTHER ON…
Contributors to the design and construction process are acknowledged here, vaguely in chronological order:
Certification and ADR compliance – Terry Toomey, Seven Hills NSW
Structural design – Mark Thorpe, Mark Thorpe Boats, Warriewood NSW

Construction advice – David Stiles, Bayview NSW

Cab modifications – Achim, Auto Body Restorations, North Narrabeen NSW

Structural materials – Allnex, Brookvale NSW
Pivot beam, lifting tubes and miscellaneous parts manufacture – Marcus Engineering, Brookvale NSW
Linear actuator – Tomuu Technology, Guangdong China
Body finish and painting – Lone Ranger, North Narrabeen NSW
Canvas production – Affordable Canvas, Glendenning NSW
Interior timber – Portas, Bunnings Belrose NSW
Interior plywood – Bruynzeel Ply, Brookvale NSW
Flooring – Safety Flooring, Hornsby NSW
Lining fabric – Solartex, Cromer NSW
Cushion & mattress fabric – Hemp Gallery, Terrey Hills NSW
Upholstery – Azuremarine, Bayview NSW
Battery and solar power – Solar4RVs, Rowville Vic
BMS and Inverter – Redarc, Tonsley Park SA
Electrical parts – Keoghs Marine, Labrador Qld
Electrical parts – Aquavolt, Roseville NSW

Electronics installation – David Stiles, Bayview NSW

Water tanks, stainless steel parts – Hannan Stainless Industries, Manly Vale NSW
Caravan components – CaravansPlus, Vic
Caravan components – Camec, Sydney NSW
Working drawings – all 90 sheets – are available for purchase, as is consulting and advice. We are not in the business of manufacturing – the purpose of this exercise is to inspire! (And maybe a tiny bit of long distance travel.)
Our Facebook page is here: https://www.facebook.com/InsideoutbackCampers