The long term future of motor vehicles in a state of flux right now. All major manufacturers are working on motive power that avoids fossil fuel dependency, and carbon emissions. Electic and hybrid cars are increasingly commonplace, and Toyota plans to have hybrid trucks on the road by 2015. They make sense for the city, but won't save much fuel on the open road. 
So where does that leave travellers? Short answer, for now: who knows? But we do know where to head right now: small footprint fuel-efficient vehicles - and that is not a big boofy box full of air. It's ultra-compact.
So our future vehicle designs will include....
SUBARU FORESTER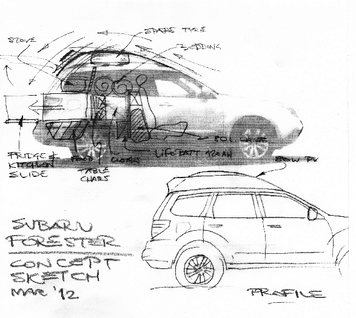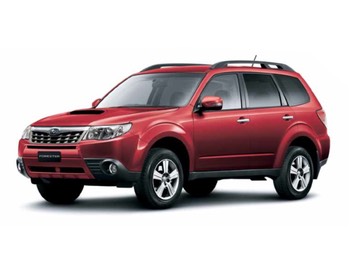 ABOVE: SUBARU FORESTER COPYRIGHT SUBARU AUSTRALIA, SKETCHES COPYRIGHT INSIDEOUTBACK CAMPERS.
2 Berth Option - Subaru Forester Diesel is a candidate for the next vehicle we wave the magic wand over at INSIDEOUTBACK...
It satisfies some basic design criteria:
compact - 4.56m long, 1560kg
fuel efficient - 5.3l/100km non-urban rated, reports suggest <7.0l/100km is likely
low emissions - Euro5, 158g/km CO2
robust - proven long term
sufficiently agile - for most trips, or better
VW AMAROK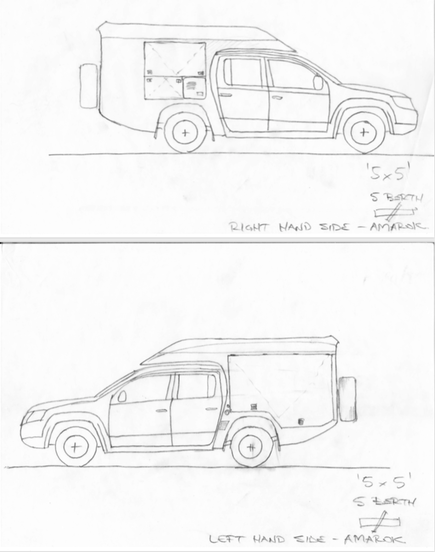 ABOVE: VOLKSWAGON AMAROK COPYRIGHT VOLKSWAGON AUSTRALIA, SKETCH COPYRIGHT TO INSIDEOUTBACK CAMPERS.
5 Berth Option - in a larger size category includes the VW Amarok. 
An INSIDEOUTBACK Amarok would be suitable as a family motorhome, for a year or two's Big Trip, in place of the common 5 tonne mororhome. It will actually perform the same function as our old flagship "Twinkletoes", a stretched wheelbase Nissan Patrol, which had a GVM of 3.3t. An INSIDEOUTBACK Amarok would have a GVM of less than 2 tonne. 
It's not only computers that have got smaller and better - INSIDEOUTBACK Campers follow the same principle.
The Amarok cab will remain largely unaltered, carrying a fmaily of 4 or 5, and the rear tray will be replaced completely by a unique aero folding motorhome body. 
The features of this are still being developed, and are under wraps for now, but can be revealed in part to serious enquirers. 
SKODA YETI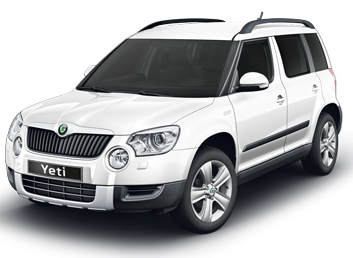 ABOVE: SKODA YETI COPYRIGHT SKODA AUSTRALIA
2 Berth Option - Skoda Yeti is also under serious consideration at INSIDEOUTBACK. We are currently evaluating this little beauty, in spite of Jeremy Clarkson also liking it very much...
It satisfies some basic design criteria:
ultra-compact - 4.2m long, 1600kg
fuel efficient - 5.5l/100km non-urban
low emissions - Euro4, 162g/km CO2
robust but yet to be proven long term
sufficiently agile - for most trips, or better
highly flexible interior - can be truly modular, so it doubles as a town car and a weekend escape machine
FORD FIESTA / ECOSPORT / KUGA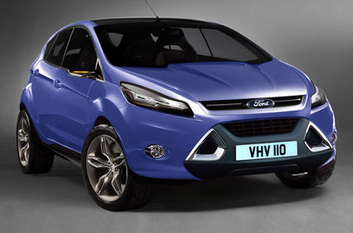 2 Berth Option - Whatever it ends being called locally, this vehicle, like the Yeti, offers to rewrite the rulebook on what small SUV can do, and how little impact it can have on both wallet and environment.
Our city runabout is a Fiesta Econetic, and it's quite brilliant at what it does - far and away better than some other sexy European models that cost 50% more. So we have confidence in the platform. The layout will look something like this: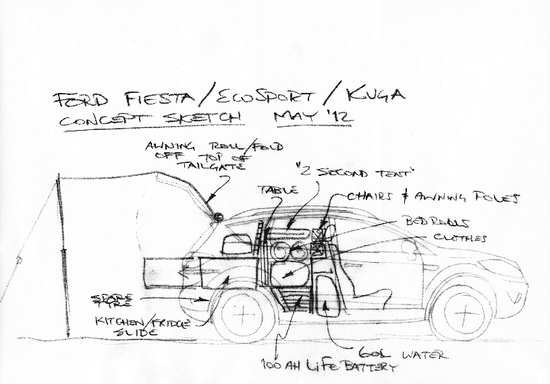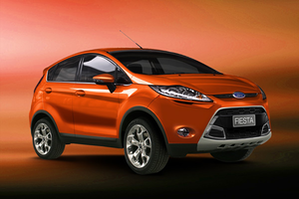 ABOVE: FORD FIESTA COPYRIGHT FORD UK, SKETCHES COPYRIGHT INSIDEOUTBACK CAMPERS.